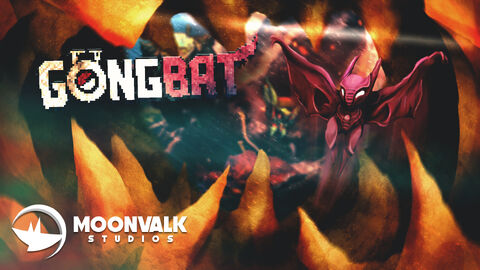 Welcome to the Official Gongbat Wiki
Edit
Gongbat is a side-scrolling shooter video game being developed for PC and mobile by Moonvalk with GameMaker: Studio. The game follows the journey of a shape-shifting anthropomorphic bat attempting to save his family of chiroptera from an evil spirit collector. The game has won both awards of highest prestige in the 2015 National STEM Video Game Challenge and the 2015 Ohio Governor's Youth Art Exhibiton.
Gongbat was initially released (version 0.1.0) on the popular indie gaming platform GameJolt, for free in late April 2015. This download-only PC version was created over the course of 10 months using GameMaker: Studio v1.4. Boasting a large array of enemy designs, collectible trophies, high scores, and a 30-minute soundtrack, reviews of the game have stuck as widely positive. Future plans for the title include massive story line changes (doubling the length of the game to an average 3-4 hour playtime), puzzle elements, and polish, as well as going cheaply commercial on Valve's market-dominating Steam platform.
Latest activity
Edit
Photos and videos are a great way to add visuals to your wiki. Add one below!
Community content is available under
CC-BY-SA
unless otherwise noted.